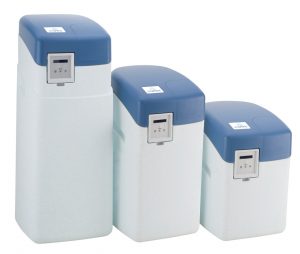 The only permanent effective solution to hard water and the problems caused by resultant scale (calcium and magnesium deposits) is a fully automatic Water Softener.
Installed at either the point of entry of the water main or on the supply pipe connected directly to a given appliance, a water softener will begin to save you money the moment it is installed. Not only will it prevent further deposits from building up but existing deposits are slowly removed. All you need to do is maintain the salt level with periodic refills of salt which we are happy to deliver to your door!
A well maintained water softener will more than pay for itself by saving on your soap and detergent costs, shampoo, conditioners and skin moisturisers as well as saving unnecessary wear and tear on all your domestic appliances and pipe work.The typical payback period of total costs in within 2-4 years depending on water consumption.*
At Clearbrook Water Treatment, we only supply quality water softeners, assembled in the UK with each softener carrying a full 5 year parts and 12 months labour guarantee, backed by the manufacturer.
Softeners are available in various sizes to suit your specific requirements.
* Source – British Water Consumers Guide – copies available by post or log on to http://www.britishwater.co.uk/
Shop Online
Water treatment products for the home. Water filters, filter kits, spare parts and accessories for home, office and light commercial use.
Coming soon:-
Water Filters
Reverse Osmosis
UV Disinfection
Secure Card Payments